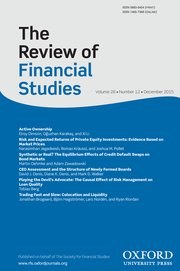 Kopányi-Peuker, A. and Weber, M. (2020). Experience Does not Eliminate Bubbles: Experimental Evidence Review of Financial Studies, :.
---
Affiliated author

Publication year

2020
Journal

Review of Financial Studies
We study the role of investor experience in the formation of asset price bubbles. We conduct a call market experiment in which participants trade assets with each other and a learning-to-forecast experiment in which participants only forecast future prices (while trade based on these forecasts is computerized). Each experiment comprises three treatments varying the information that participants receive about the fundamental value. Each experimental market is repeated three times. Throughout, we observe sizable bubbles that persist despite participant experience. Our findings in the call market experiment contrast with those in the literature. Our findings in the learning-to-forecast experiment are novel.