TI graduate Xu Lin awarded the 'Jan Brouwer Scriptieprijs'
The Koninklijke Hollandsche Maatschappij der Wetenschappen (Royal Dutch Society of Sciences) has awarded the Jan Brouwer Scriptieprijs (thesis award) to TI graduate Xu Lin. Lin wrote her thesis entitled Buying Time to Save Lives: Evaluating COVID-19 Lockdown Policies using a Behavioral SEIR as part of the Research Master in Economics at the Tinbergen Institute. Xu Lin is currently a PhD candidate at the University of Amsterdam. TI Research Fellow Sweder van Wijnbergen acted as supervisor for Xu Lin's master thesis.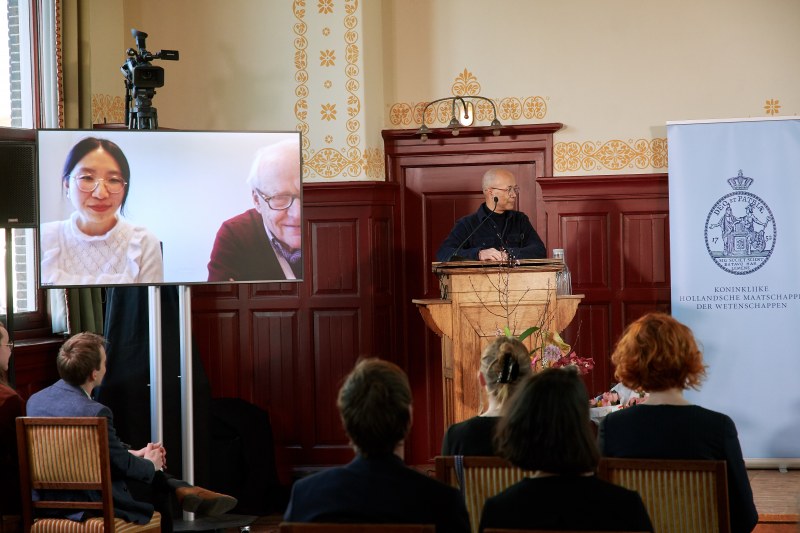 Each year, the KHMW awards the Jan Brouwer Scriptieprijs to master theses written in the previous academic year within 8 different categories from the humanities and the social sciences. Xu Lin has been awarded the prize in the category economic science.
Among the three-headed jury for the Jan Brouwer Scriptieprijs is TI Research Fellow Maarten Lindeboom. An excerpt from the jury report on Xu Lin's thesis: "In this thesis, Xu Lin shows that even the most advanced models used in epidemiology (and also by RIVM!) fall short in their predictions, mainly because they do not take into account a number of things. The main innovation in this paper is to take into account behavioral responses of individuals when there is a threat of infection: the fear of contagion. This depends on peoples beliefs on the mortality rate and people update their beliefs, which helps to better predict the pandemic path. Indeed, Xu Lin shows that her model accurately predicts the actual development of the pandemic quite well and outperforms the existing models."
You can view the full report on Xu Lin's thesis as well as the winners from the other categories here.