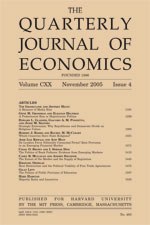 van Wijnbergen, S.J.G. and Claessens, C. (1993). Secondary market prices and Mexico's Brady Deal Quarterly Journal of Economics, 108(nov):965--983.
---
Affiliated author

Publication year

1993
Journal

Quarterly Journal of Economics
Analyzes wether or not the use of official funds in debt reduction packages as in Mexico's 1989 Brady deal is tantamount to a creditor bailout. Review of events; option-pricing approach to sovereign debt valuation; market valuation of the Brady debt package; positive impact of Brady plan on debt relief.