Retiree Professor Eddy Van Doorslaer receives honour of knighthood
On Friday, 24 February 2023, on the day of his valedictory lecture, health economist Professor Eddy Van Doorslaer has become a Knight of the Order of the Lion of the Netherlands.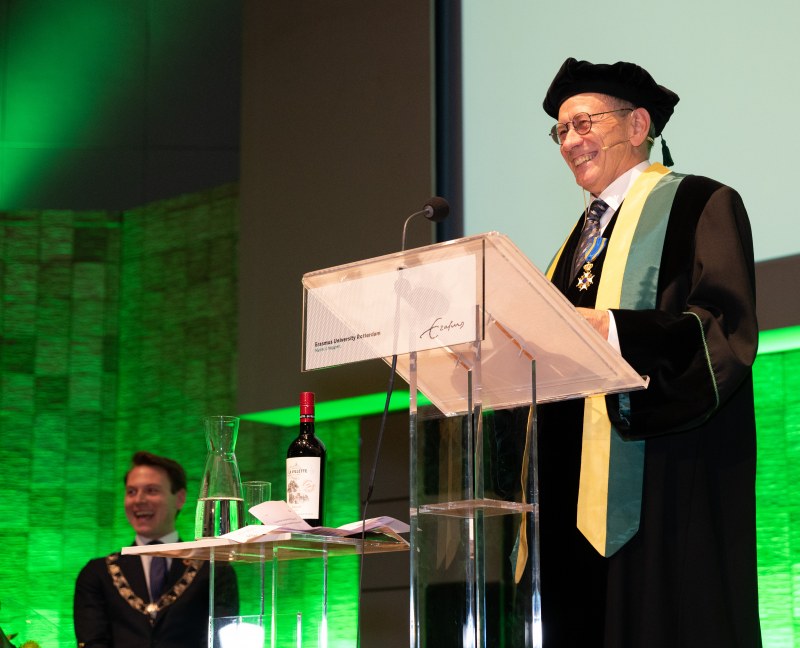 On February 24, 2023, Eddy Van Doorslaer retired as a professor of Health Economics at Erasmus University Rotterdam, after a period of service of 32 years. On the day of his valedictory lecture, the deputy mayor of Rotterdam Mr. Tim Versnel awarded Van Doorslaer the royal honour for his outstanding contribution to the specialist field of health policy worldwide. "You have made healthcare fair, not just in the wealthy West but also in countries where this is less the case. Your academic work, managerial abilities and warm personality have been indispensable in this endeavour, both at Erasmus University and far beyond," said deputy mayor Tim Versnel.
TI research fellow Van Doorslaer's research in health economics has been recognised internationally as world class. Eddy Van Doorslaer was member of the Royal Netherlands Academy for Arts and Sciences (KNAW) since 2014.
For more information we refer to the Erasmus University website.
Photo taken by Michelle Muus.